VOLUNTEER Training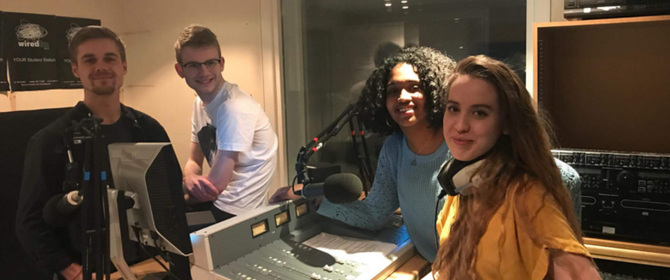 Hi everyone, we hope you're looking forward to returning to (or starting) college this semester. It's going to be a strange one, with less opportunities to socialise and less opportunity for extracurricular activity. We want to help you with that. We're fully aware of how unique this year will be for you, and it's important that we at Wired FM can offer as many volunteer opportunities as possible.
If you're in full-time third level education in Limerick, you are welcome to work with your college radio station, and we want to hear from you. Each September we look for volunteers to join our team to cover Current Affairs, Arts, Irish Language Programming, Student Issues, Sport, Entertainment, Specialist Music and more.
There's lot of reasons to get involved, it's a fantastic social network, and you get to be part of an enthusiastic and like minded team. You also become part of a worldwide college radio movement, that's growing each year. If you'd like to work in broadcast or become a journalist, the experience and skills you will pick up along the way are invaluable, several of our ex volunteers now work in media outlets in Ireland and abroad as direct result of their involvement in Wired FM. It can also enhance other areas of your studies or interests, and most importantly, it's a lot of fun!
We're now looking for expressions of interest. Like everywhere else, this year Wired FM is going to be a little different.

The studios in Mary Immaculate College and Limerick Institute of Technology will be open to volunteers, but under strict guidelines, and reduced numbers. We're busy working behind the scenes getting everything organised for our your return, and we'll keep you regularly updated as plans unfold, but for now, we want an idea of numbers.
The first few weeks of college are all about our recruitment drive, and getting our new volunteers trained up as broadcasters. This year a lot of our training will have to move online, and we'll be starting at the very beginning of the semester. We will also have to hold "in studio" training prior to volunteers going on air. The numbers for these sessions will be greatly restricted, so we're going to have a lot more of them!
So, If you're a full time student in any institution in Limerick, and wish to get involved with Limerick's College Radio. Sign up here. If you're a returning volunteer, get in touch ASAP here.
We'll be back on air on the 2nd of October, which is World College Radio Day. We'll be broadcasting from 9am to 9pm on the day, if you want to broadcast as part of this worldwide event, contact us today.
We have been chosen to take part in the World College Radio Day Marathon, if this sounds like you to be involved in, get in touch with us today.
You can read all about World College Radio Day here.